Happy 19th little brother. You are forever in our hearts.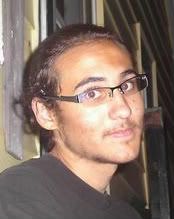 I'll be back to post more pics. We celebrated today with a few of Taylors' close friends. I'm emotionally drained, so not sure I'll be back tonight. I'm so glad I took the day off work, it was nice to see his friends and share stories of my little brother
5/9/09 Update ~
Admittedly I was a little nervous going to my mom's house on Taylor's birthday but it was more than I imagined. His friends that came were so caring and had so many fun stories to share about Taylor. He was/is very loved. You see I didn't get to know a lot of his friends b/c the big age difference btw us (15 years). Most of the kids in this picture are in their late teens early twenties. They told us they continue to miss Taylor and thinking of him is like thinking about breathing....it just comes so natural. That touched my heart. I truly believe that some of these kids will keep in contact for years to come, my mom looks forward to seeing them. It helps to keep Taylor's memory alive.
Sitting around sharing stories of Taylor.
We all signed his cross again. It was placed at the scene of the accident. A couple guys brought it to my mom's so she could put it in his garden, it's called Taylor's Place. We all signed it again. It's almost been a year so some of the signatures are fading.
Taylor's Place